Exclusive Offer for AMCHAM members
"Ego-Distancing: Focusing the Mind in Times of Uncertainty"
3 Day 2 Night Resort Retreat
Pinnacle Grand Jomtien Resort & Paccaya Foundation offer you to escape the chaos of the daily routine and boost your mind.
Join our 4-part series workshop, developed by Paccaya Foundation and rooted in an exploration of essential Buddhist teachings on mindfulness, with each weekend session focusing on the study and practice of mindfulness.
Spend quality time getting to know and understand yourself with our Weekend Retreat Workshop: "Ego-Distancing: Focusing the Mind in Times of Uncertainty". Rest, get some perspective and distance from your problems, understand your thoughts and who you are at our beach front resort. Feel the sea breeze and immerse in nature. Learn how to be 'in the moment' to understand who you really are. Master the principle of 'conscious living' through the perspective of daily life. Understand emotions, feelings, existence of things around and letting go. Live happily and understand the nature of the world.
The workshops are divided into 4 weeks (Friday evening to Sunday morning) and are delivered at Pinnacle Grand Jomtien Resort hotel by Na Jomtien Beach, Pattaya.
Price's list of prices below are for the general public. Right under the image it you can see the exclusive discount that Pinnacle and  Paccaya are offering to AMCHAM members.
_
PINNACLE GRAND JOMTIEN & PACCAYA FOUNDATION EXCLUSIVE OFFER FOR AMCHAM MEMBERS
Workshop + 2 nights accomodation for 2 people in Deluxe Seaview Room with all meals included for only ฿8,370. 
(Original price of this package: ฿9,300)
For workshop bookings or more info, please contact us:
Facebook Inbox : Pinnacle Grand Jomtien Resort
Tel: 080 634 2342
Email: prjreserv@gmail.com
_
PACCAYA FOUNDATION
The Paccaya Foundation aims to make the essence of Dhamma accessible and relevant to modern society and to perpetuate the teachings of the Buddha.
Taking inspiration from the innovative ways in which Dhamma is taught in contemporary societies around the world, the Paccaya Foundation aspires to engage people in the source of thai culture using transformative communication methods that maintain the authenticity of the dhamma, while emphasizing Buddhism's continued compatibility with our modern world.
Visit Paccayaa Foundation Website https://www.paccaya.org/
_
WORKSHOP SCHEDULE & WHAT TO EXPECT
Lectures are in English. You can choose the workshops that you want to attend to. We recommend attending all workshops.
Organized by Paccaya Foundation led by Dr. Alex Wynne, Buddhist scholar Assistant Director from Oxford University, 'Mindfulness – Living Mindfulness'. Dr. Wynne will teach and guide all 4 workshops.
Activities Calendar 
September 18 – 20th
October 16 – 18th
November 13 – 15th
December (to be announced)
We encourage participation in the complete series.
What participants will get from this event 
Understand what mindfulness is, and is not
Learn how to put mindfulness into practice in different situations
Develop the tools to help deepen your own meditation practice
Gain understanding of how your mind works
Transform your daily experience
Improve your problem solving ability, by clarifying your thoughts
Cultivate the art of skillful living
_
STAY AT PINNACLE GRAND JOMTIEN RESORT DURING THE WORKSHOP
Our resort offers a variety of accommodation; Standard, Deluxe and Deluxe Seaview Rooms with spacious facilities and outdoor spaces as settings for your mindfulness retreat. Local participants who are not looking for accommodation can participate as Activity Drop In from Friday evening – Sunday morning. The price for Activity Drop In is 3,500 THB per person.
Prices for Packages are
Activities Drop In for One person – 3,500 THB
Package for One person – 4,900 THB
Package for Two people – 7,500 THB (Standard Room), 8.900 THB (Deluxe Room), 9,300 THB (Deluxe Seaview Room) [FOR AMCHAM MEMBERS, THIS PACKAGE IS 8,370 THB]
All prices net and include meals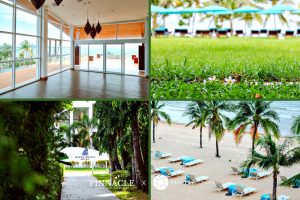 With a wide private beachfront and a sunset scene that take your breath away like no other, Pinnacle Grand Jomtien welcomes you to Na Jomtien Coastline, a private beach located only 15 minutes away from Pattaya City. Ideal and convenient for staying to attend to our workshops, retreats, special occasion, or just a getaway from the ordinary.
_
DON'T LET PASS THIS EXCLUSIVE OFFER FOR AMCHAM MEMBERS
Workshop + 2 nights accomodation for 2 people in Deluxe Seaview Room with all meals included for only ฿8,370. 
(Original price of this package: ฿9,300)
For workshop bookings or more info, please contact us:
Tel: 080 634 2342
Email: prjreserv@gmail.com
Facebook : Pinnacle Grand Jomtien Resort
_